Jan Lindgaard Rasmussen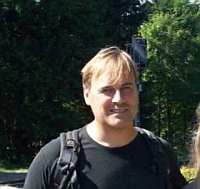 About me
I am danish, and born in 1972. I started taking pictures of birds and scenery in 1990, using dias. Turned digital as late as 6/2011.

My main focus is to simply document what I see around me, mainly birds, butterflies, flora and scenery. I am very inspired by the panoramas of this site and a-p.de, before that especially by Hannu Hautala, a finnish photographer. I see photographing as a clash between truth and beauty. I am most inclined to the truth-part, but I don't see it as a contradiction to take out the maximum of the pictures. Therefore, I don't like removing clouds, trees, people etc from my pictures, but I support taking out as much details as possible, and corrections of colour, contrast etc.

Though I like Denmark, it is really refreshing for me to go just a little bit further up in Sweden or down in Germany. Even small deferences are enjoyable.

I am not good at making fresh and new panos; I simply work too slow. So you can expect panos from any season at any time from me.

About my equipment
Canon 550D, Canon 6D (from 11/2016), 28-80 mm, 50 mm, 70-200 mm, 300 mm, 1,4 x converter.

DPP, Hugin, PTGui pro, IrfanView, Gimp.
Kontakt: janlindgaardrasmussen[at]gmail(dot)com
Uploaded panoramas:
270
Likes:
4247

(Ø 15,7)

Comments written:
3038
Comments received:
1732
View to Trollaskagi and Skagaströnd peninsulas Krossneslaug (Iceland)


- 2023/02/02 - Jan Lindgaard Rasmussen

At Gjögursvatn Gjögursvatn (Iceland)


- 2023/01/30 - Jan Lindgaard Rasmussen

Inner Reykjarfjörður Reykjarfjörður (Iceland)


- 2023/01/26 - Jan Lindgaard Rasmussen

Above Veiðilseyfjörður At Bæjaráfoss (Iceland)


- 2023/01/22 - Jan Lindgaard Rasmussen

Veiðilseyfjörður Kúvíkur (Iceland)


- 2023/01/18 - Jan Lindgaard Rasmussen

Bjarnarfjörður Bakki (Iceland)


- 2023/01/14 - Jan Lindgaard Rasmussen

Melting water river impression Steingrímsfjarðarheiði (Iceland)


- 2023/01/10 - Jan Lindgaard Rasmussen

Above Heydalur Skötufjarðarheiði (Iceland)


- 2023/01/07 - Jan Lindgaard Rasmussen

Snæfjallaströnd Breiðfirðinganes (Iceland)

- 2023/01/03 - Jan Lindgaard Rasmussen

Northwestern Iceland classic Tröð (Iceland)


- 2022/12/31 - Jan Lindgaard Rasmussen

Ísafjörður from the outside Djúpvegur (Iceland)


- 2022/12/26 - Jan Lindgaard Rasmussen

Downtown Ísafjörður Pollgata (Iceland)

- 2022/12/23 - Jan Lindgaard Rasmussen

Ísafjarðardjúp Vigur (Iceland)


- 2022/12/12 - Jan Lindgaard Rasmussen

At Dynjandi ... (Iceland)

- 2022/12/05 - Jan Lindgaard Rasmussen

Dynjandisheiði Dynjandisheiði (Iceland)


- 2022/11/29 - Jan Lindgaard Rasmussen

Fossfjörður ... (Iceland)

- 2022/11/26 - Jan Lindgaard Rasmussen

Kirkjufellsfoss Kirkjufellsfoss (Iceland)


- 2022/11/21 - Jan Lindgaard Rasmussen

Snæfellsjökull farewell Dagverðará (Iceland)


- 2022/11/19 - Jan Lindgaard Rasmussen

Arnarstapi birdcliffs Arnarstapi Cliff (Iceland)


- 2022/11/13 - Jan Lindgaard Rasmussen

Snæfellsnes Impression Axlarhyrna (Iceland)


- 2022/11/11 - Jan Lindgaard Rasmussen

At Bjarnarfoss Below Bjarnarfoss (Iceland)

- 2022/11/05 - Jan Lindgaard Rasmussen

On Snæfellsnes Near Traðir (Iceland)

- 2022/11/01 - Jan Lindgaard Rasmussen

Stykkishólmur and Breiðafjörður Súgandisey (Iceland)


- 2022/10/23 - Jan Lindgaard Rasmussen

Selvallafoss Selvallafoss (Iceland)


- 2022/10/15 - Jan Lindgaard Rasmussen

On the edge of Gerðuberg Gerðuberg (Iceland)


- 2022/10/05 - Jan Lindgaard Rasmussen

Látrabjarg Látrabjarg (Iceland)


- 2022/09/28 - Jan Lindgaard Rasmussen

Shooting stars and Aurora Borealis Kallerup Bakkevej (Denmark)


- 2022/09/21 - Jan Lindgaard Rasmussen

"Quiet flows the Storebælt..." III Hashøj (Denmark)

- 2022/07/31 - Jan Lindgaard Rasmussen

Looking to the southwestern corner of Sjælland Hashøj (Denmark)


- 2022/07/26 - Jan Lindgaard Rasmussen

View to Sjællands highest Galgebakke (Denmark)


- 2022/07/23 - Jan Lindgaard Rasmussen

Corn flowers and Poppies Ruds Vedby (Denmark)


- 2022/06/28 - Jan Lindgaard Rasmussen

Seljalandsfoss Seljalandsfoss (Iceland)

- 2022/06/24 - Jan Lindgaard Rasmussen

View to Vestmannaeyjar islands Þorvaldseyri (Iceland)


- 2022/06/20 - Jan Lindgaard Rasmussen

Skógafoss raw edition Skóga river (Iceland)

- 2022/06/16 - Jan Lindgaard Rasmussen

Around Pétursey II Sólheimar (Iceland)


- 2022/06/13 - Jan Lindgaard Rasmussen

Around Pétursey I Hotel Búrfell (Iceland)


- 2022/06/09 - Jan Lindgaard Rasmussen

Mossy Lava Fields Eldhraun (Iceland)


- 2022/06/06 - Jan Lindgaard Rasmussen

Skeiðarársandur Skeiðará (Iceland)

- 2022/06/02 - Jan Lindgaard Rasmussen

Fjallsárlón Fjallsárlón (Iceland)


- 2022/05/29 - Jan Lindgaard Rasmussen

Jökulsarlón revisited Jökulsarlón (Iceland)


- 2022/05/25 - Jan Lindgaard Rasmussen

Steinafjall Reynivellir (Iceland)


- 2022/05/22 - Jan Lindgaard Rasmussen

Vatnajökull impression Hólmur (Iceland)


- 2022/05/18 - Jan Lindgaard Rasmussen

Vatnajökull in hazy morning air Seljavellir (Iceland)

- 2022/05/12 - Jan Lindgaard Rasmussen

Glacial toes of southeastern Vatnajökull Sefdalur (Iceland)


- 2022/05/08 - Jan Lindgaard Rasmussen

Vatnajökull in the distance Sefdalur (Iceland)


- 2022/05/03 - Jan Lindgaard Rasmussen

Vikurfjall Hvalnes (Iceland)


- 2022/04/30 - Jan Lindgaard Rasmussen

Breiðdalsvík Selnes (Iceland)


- 2022/04/26 - Jan Lindgaard Rasmussen

Fáskrúðsfjörður Eyri (Iceland)

- 2022/04/23 - Jan Lindgaard Rasmussen

Kambfjall from below Dalir (Iceland)


- 2022/04/19 - Jan Lindgaard Rasmussen

Reyðarfjörður Reyðarfjörður (Iceland)


- 2022/04/16 - Jan Lindgaard Rasmussen

In Fagridalur Fagridalur (Iceland)

- 2022/04/12 - Jan Lindgaard Rasmussen

Hazy view over Lagarfljót Gagnheiði (Iceland)

- 2022/04/09 - Jan Lindgaard Rasmussen

Gufufoss Gufufoss (Iceland)


- 2022/04/05 - Jan Lindgaard Rasmussen

Seyðisfjörður Seyðisfjörður (Iceland)


- 2022/04/01 - Jan Lindgaard Rasmussen

Víðidalur Víðidalur (Iceland)


- 2022/03/28 - Jan Lindgaard Rasmussen

Dettifoss III - Dettifoss and Selfoss in a context Dettifoss western bank (Iceland)


- 2022/03/24 - Jan Lindgaard Rasmussen

Dettifoss II Dettifoss western bank (Iceland)


- 2022/03/21 - Jan Lindgaard Rasmussen

Dettifoss I Dettifoss western bank (Iceland)

- 2022/03/16 - Jan Lindgaard Rasmussen

Vígabjarsfoss Western bank of Jökullsá (Iceland)

- 2022/03/13 - Jan Lindgaard Rasmussen

Mývatnsheið Vindbelgjarfjall (Iceland)

- 2022/03/06 - Jan Lindgaard Rasmussen

At Mývatn Around Vindbelgjarfjall (Iceland)


- 2022/03/01 - Jan Lindgaard Rasmussen

From Trælanípan Trælanípan (Faroe Islands)


- 2022/02/22 - Jan Lindgaard Rasmussen

At Bøsdalafossur Above Bøsdalafossur (Faroe Islands)


- 2022/02/18 - Jan Lindgaard Rasmussen

Faroese landmarks Bøur (Faroe Islands)


- 2022/02/08 - Jan Lindgaard Rasmussen

Looking beyond Kirkjubøur Bøtangi (Faroe Islands)

- 2021/11/30 - Jan Lindgaard Rasmussen

Faroes classic Elduvíksnes (Faroe Islands)


- 2021/11/04 - Jan Lindgaard Rasmussen

Sornfell III - as good as it gets Sornfell (Faroe Islands)

- 2021/10/20 - Jan Lindgaard Rasmussen

Sornfell II - Dew point reached Sornfell (Faroe Islands)


- 2021/08/24 - Jan Lindgaard Rasmussen

Sornfell I - Ascending Sornfell (Faroe Islands)


- 2021/08/16 - Jan Lindgaard Rasmussen

Sørvágsvatn Middagsfjall (Faroe Islands)


- 2021/08/10 - Jan Lindgaard Rasmussen

Reykjavik Hallgrímskirkja (Iceland)


- 2021/07/29 - Jan Lindgaard Rasmussen

Beyond the perimeter of Reykjavík Hallgrímskirkja (Iceland)


- 2021/07/20 - Jan Lindgaard Rasmussen

Misty mountain Eyjarfjörður (Iceland)


- 2021/06/20 - Jan Lindgaard Rasmussen

Hraunfossar Along Hvitá (Iceland)


- 2021/06/15 - Jan Lindgaard Rasmussen

Tærø and Langø Dronning Alexandrines Bro (Denmark)


- 2021/06/10 - Jan Lindgaard Rasmussen

Stege Bugt tele Dronning Alexandrines Bro (Denmark)

- 2021/06/04 - Jan Lindgaard Rasmussen

Ulvsund late evening Dronning Alexandrines Bro (Denmark)


- 2021/06/01 - Jan Lindgaard Rasmussen

Storstrømmen in the sunset II Kragetinget (Denmark)

- 2021/05/26 - Jan Lindgaard Rasmussen

Grønsund Grønsundvej (Denmark)


- 2021/05/22 - Jan Lindgaard Rasmussen

Ulvsund early morning Dronning Alexandrines Bro (Denmark)


- 2021/05/06 - Jan Lindgaard Rasmussen

Avnø Fjord Avnø air control tower (Denmark)

- 2020/06/09 - Jan Lindgaard Rasmussen

Early morning at Dybsø Fjord Stejlebanke (Denmark)


- 2020/05/31 - Jan Lindgaard Rasmussen

Southern Fyn Frøbjerg Bavnehøj (Denmark)

- 2020/05/22 - Jan Lindgaard Rasmussen

Southern Langeland Fakkebjerg (Denmark)


- 2020/05/20 - Jan Lindgaard Rasmussen

From the edge of the Law Rock Lögberg (Iceland)

- 2020/05/06 - Jan Lindgaard Rasmussen

In the Rift Valley of Iceland Öxaráfoss (Iceland)


- 2020/04/28 - Jan Lindgaard Rasmussen

Beyond Laugarvatn Laugarvatn (Iceland)


- 2020/04/24 - Jan Lindgaard Rasmussen

Laugarvatn Laugarvatn (Iceland)


- 2020/04/21 - Jan Lindgaard Rasmussen

The backyard of Gullfoss... Above Gullfoss (Iceland)

- 2020/04/14 - Jan Lindgaard Rasmussen

Gullfoss Waterfall Gullfoss (Iceland)


- 2020/04/10 - Jan Lindgaard Rasmussen

Strokkur Geysir (Iceland)


- 2020/04/06 - Jan Lindgaard Rasmussen

Drive-in icelandic landscape Eyjarholt (Iceland)


- 2020/04/03 - Jan Lindgaard Rasmussen

Kerið The edge (Iceland)


- 2020/03/30 - Jan Lindgaard Rasmussen

Selfoss ... (Iceland)

- 2020/03/27 - Jan Lindgaard Rasmussen

Nisser Eastern shore (Norway)


- 2020/03/22 - Jan Lindgaard Rasmussen

Bussvikfjorden in Nisser Øy (Norway)

- 2020/03/18 - Jan Lindgaard Rasmussen

First sunlight on the Fjells Vrådal (Norway)


- 2020/03/15 - Jan Lindgaard Rasmussen

Tele view to The Fjells Stemnetten (Norway)


- 2020/03/10 - Jan Lindgaard Rasmussen

Fjells of southern Norway Stemnetten (Norway)


- 2020/03/03 - Jan Lindgaard Rasmussen

Minor Polar Stratospheric Clouds Vrådal (Norway)


- 2020/03/01 - Jan Lindgaard Rasmussen

Vrådal in Telemark Stemnetten (Norway)


- 2020/02/25 - Jan Lindgaard Rasmussen

Winter sunset from Reersø Draget Klint (Denmark)

- 2020/02/23 - Jan Lindgaard Rasmussen

Nekselø with a bonus Vejrhøj (Denmark)


- 2019/04/03 - Jan Lindgaard Rasmussen

Landscapes across the water II Vejrhøj (Denmark)

- 2019/03/26 - Jan Lindgaard Rasmussen

Aurora borealis over Sejerø Bugt II Kallerup Bakke (Denmark)

- 2019/03/18 - Jan Lindgaard Rasmussen

Twilight over Kalundborg harbour Gisseløre (Denmark)

- 2019/03/14 - Jan Lindgaard Rasmussen

Samsø and Djursland Vågehøj (Denmark)


- 2019/03/11 - Jan Lindgaard Rasmussen

Northern Fyn from Røsnæs II Vågehøj (Denmark)


- 2019/03/06 - Jan Lindgaard Rasmussen

Kalundborg Fjord Vågehøj (Denmark)

- 2019/03/03 - Jan Lindgaard Rasmussen

Twilight by the Tiber Ponte Umberto I (Italy)


- 2019/02/27 - Jan Lindgaard Rasmussen

Piazza del Popolo Piazza del Popolo (Italy)


- 2019/02/24 - Jan Lindgaard Rasmussen

Piazza Navona Piazza Navona (Italy)

- 2019/02/20 - Jan Lindgaard Rasmussen

Fontana di Trevi Piazza di Trevi (Italy)

- 2019/02/17 - Jan Lindgaard Rasmussen

Basilica Papale di Santa Maria Maggiore Piazza di Santa Maria Maggiore/Piazza dell'Esquilino (Rome) (Italy)


- 2019/02/12 - Jan Lindgaard Rasmussen

Pantheon interior Pantheon (Rome) (Italy)


- 2019/02/10 - Jan Lindgaard Rasmussen

Wintermonotony Kærnehøj (Denmark)


- 2019/02/05 - Jan Lindgaard Rasmussen

Southwestern Skåne Kungsbacken (Sweden)


- 2019/01/30 - Jan Lindgaard Rasmussen

Sunset over Korsør Nor Tårnbjerg (Denmark)

- 2019/01/27 - Jan Lindgaard Rasmussen

Northern part of Isefjorden Pugebjerg (Denmark)


- 2019/01/23 - Jan Lindgaard Rasmussen

The Colossus of Prora Prora (Germany)

- 2019/01/20 - Jan Lindgaard Rasmussen

Sassnitz and Jasmund Seebrücke Sellin (Germany)


- 2019/01/16 - Jan Lindgaard Rasmussen

Rügen outside the season Seebrücke Sellin (Germany)

- 2019/01/10 - Jan Lindgaard Rasmussen

Skåne behind Sjælland Skansebakken (Denmark)

- 2019/01/08 - Jan Lindgaard Rasmussen

Haraldsted Sø Kærnehøj (Denmark)

- 2018/12/23 - Jan Lindgaard Rasmussen

Central Øresund tele view Skovshoved Havn (Denmark)


- 2018/10/16 - Jan Lindgaard Rasmussen

Buildings in Øresund Skovshoved Havn (Denmark)


- 2018/10/13 - Jan Lindgaard Rasmussen

Øresund impression Skovshoved Havn (Denmark)


- 2018/10/08 - Jan Lindgaard Rasmussen

Tipperne Værnsande bird tower (Denmark)


- 2018/10/02 - Jan Lindgaard Rasmussen

Danish summernights XIV: Bramsnæs Vig 2.0 Lille Langtved (Denmark)


- 2018/08/19 - Jan Lindgaard Rasmussen

Danish summernights XIII: Arresø 2.0 Ubberup (Denmark)


- 2018/08/12 - Jan Lindgaard Rasmussen

Danish summernights XII: Arresø 1.0 Lille Lyngby (Denmark)


- 2018/08/10 - Jan Lindgaard Rasmussen

Danish summernights XI: Northwestern Skåne 2.0 Hesbjerg (Denmark)


- 2018/07/15 - Jan Lindgaard Rasmussen

Danish summernights X: Sjællands Odde Path from Møllestræde in Høve (Denmark)


- 2018/07/12 - Jan Lindgaard Rasmussen

Danish summernights IX: Northwestern Skåne Hesbjerg (Denmark)

- 2018/07/08 - Jan Lindgaard Rasmussen

Danish summernights VIII: Northern Øresund 2.0 Hesbjerg (Denmark)


- 2018/07/04 - Jan Lindgaard Rasmussen

Danish summernights VII: Northern Øresund 1.0 Hesbjerg (Denmark)


- 2018/06/30 - Jan Lindgaard Rasmussen

Danish summernights VI: Kullen Gilbjerghoved (Denmark)


- 2018/06/27 - Jan Lindgaard Rasmussen

Danish summernights V: Bramsnæs Vig Lille Langtved (Denmark)


- 2018/06/23 - Jan Lindgaard Rasmussen

Danish summernights IV: Tissø Tissø south end (Denmark)


- 2018/06/18 - Jan Lindgaard Rasmussen

Danish summernights III: Avedøreværket Skrædderholmen (Denmark)


- 2018/06/16 - Jan Lindgaard Rasmussen

Danish summernights II: Copenhagen Skrædderholmen (Denmark)


- 2018/06/11 - Jan Lindgaard Rasmussen

Danish summernights I: Isefjorden Flækkebakke (Denmark)


- 2018/06/09 - Jan Lindgaard Rasmussen

Rurality and urbanity II Villahøj (Denmark)


- 2018/06/04 - Jan Lindgaard Rasmussen

Rurality and urbanity Granathøj (Denmark)


- 2018/05/30 - Jan Lindgaard Rasmussen

Tissø in spring Fugledegård (Denmark)


- 2018/05/26 - Jan Lindgaard Rasmussen

Gyrstinge Sø Kilden, Store Bøgeskov (Denmark)


- 2018/05/23 - Jan Lindgaard Rasmussen

Southern Øresund Stevns Lighthouse (Denmark)


- 2018/05/19 - Jan Lindgaard Rasmussen

Stevns Lighthouse overview Stevns Lighthouse (Denmark)


- 2018/05/16 - Jan Lindgaard Rasmussen

Stevns Klint Mandehoved (Denmark)

- 2018/05/10 - Jan Lindgaard Rasmussen

Mandehoved overview Flagbanken (Denmark)

- 2018/05/09 - Jan Lindgaard Rasmussen

Spring in Rusland Rusland (Denmark)

- 2018/05/03 - Jan Lindgaard Rasmussen

Isefjorden in the distance Mørkemose Bjerg (Denmark)


- 2018/04/30 - Jan Lindgaard Rasmussen

Mørkemose Bjerg overview Mørkemose Bjerg (Denmark)


- 2018/04/24 - Jan Lindgaard Rasmussen

The Colosseum Rome (Italy)

- 2018/04/22 - Jan Lindgaard Rasmussen

Southeastern Møn Baltic Sea (Denmark)

- 2018/04/17 - Jan Lindgaard Rasmussen

Giuseppe's viewpoint Ponte Umberto I (Italy)

- 2018/04/13 - Jan Lindgaard Rasmussen

"Quiet flows the Storebælt..." II Hashøj (Denmark)

- 2018/04/09 - Jan Lindgaard Rasmussen

Bjergene Knøsen (Denmark)


- 2018/04/06 - Jan Lindgaard Rasmussen

Winter impression Knøsen (Denmark)

- 2018/04/01 - Jan Lindgaard Rasmussen

Storstrømmen in the sunset Kragetinget (Denmark)


- 2018/03/30 - Jan Lindgaard Rasmussen

View to eastern Møn Borre (Denmark)


- 2018/03/24 - Jan Lindgaard Rasmussen

Skåne across The Baltic Møns Klint (Denmark)


- 2018/03/22 - Jan Lindgaard Rasmussen

Storstrømmen Aborrebjerg (Denmark)


- 2018/03/16 - Jan Lindgaard Rasmussen

Skåne from Aborrebjerget (Møn) Aborrebjerg (Denmark)


- 2017/12/10 - Jan Lindgaard Rasmussen

Aborrebjerg overview Aborrebjerg (Denmark)


- 2017/11/13 - Jan Lindgaard Rasmussen

Southern Møn Kongsbjerg (Denmark)

- 2017/11/09 - Jan Lindgaard Rasmussen

Rügen and Hiddensee across the Baltic Møns Klint (Denmark)


- 2017/11/02 - Jan Lindgaard Rasmussen

Central Sjælland tele impression Knøsen (Denmark)

- 2017/10/30 - Jan Lindgaard Rasmussen

Knøsen overview Knøsen (Denmark)

- 2017/10/26 - Jan Lindgaard Rasmussen

Autumn on Røsnæs Vågehøj (Denmark)


- 2017/10/22 - Jan Lindgaard Rasmussen

Kalundborg harbour Gisseløre (Denmark)


- 2017/10/18 - Jan Lindgaard Rasmussen

Aurora borealis over Sejerø Bugt I Kallerup Bakke (Denmark)


- 2017/10/13 - Jan Lindgaard Rasmussen

Plitvicka jezera impression Lower lake (Croatia)

- 2017/10/10 - Jan Lindgaard Rasmussen

Plitvicka jezera big falls Entrance 1 uppermost viewpoint (Croatia)

- 2017/10/06 - Jan Lindgaard Rasmussen

Kornati Otocic Lavdara (Croatia)


- 2017/10/02 - Jan Lindgaard Rasmussen

Evening at Crkva Duha Svetoga Outside Posedarje (Croatia)


- 2017/09/29 - Jan Lindgaard Rasmussen

Zadar from above Tower of Cathedral of St. Anastasia (Croatia)


- 2017/09/25 - Jan Lindgaard Rasmussen

Sunset over Novigradsko More II - blue hour Southern shore hills (Croatia)


- 2017/09/18 - Jan Lindgaard Rasmussen

Sunset over Novigradsko More I - golden hour Southern shore hills (Croatia)


- 2017/09/18 - Jan Lindgaard Rasmussen

Zadar high noon Zadar promenade (Croatia)


- 2017/09/10 - Jan Lindgaard Rasmussen

Hesselø Off Hesselø (Denmark)


- 2017/09/06 - Jan Lindgaard Rasmussen

Western Norway in hazy Fernsicht Off Haugesund (Norway)

- 2017/09/03 - Jan Lindgaard Rasmussen

Storebælt and Fyn from Kløveshøj Kløveshøj (Denmark)

- 2017/08/28 - Jan Lindgaard Rasmussen

Central Sjælland in spring Kløveshøj (Denmark)


- 2017/08/26 - Jan Lindgaard Rasmussen

Kløveshøj in late spring Kløveshøj (Denmark)


- 2017/08/17 - Jan Lindgaard Rasmussen

Passing northern Shetland Off Skaw headland (United Kingdom)


- 2017/08/15 - Jan Lindgaard Rasmussen

Agersø and Omø Stigsnæs (Denmark)


- 2017/08/10 - Jan Lindgaard Rasmussen

Stigsnæs harbour Stigsnæs (Denmark)

- 2017/08/08 - Jan Lindgaard Rasmussen

Entering Warnemünde Scandlines ferry (Germany)

- 2017/08/02 - Jan Lindgaard Rasmussen

Ertholmene Baltic Sea (Denmark)

- 2017/07/31 - Jan Lindgaard Rasmussen

Beyond the western part of Vänern Kinnekulle (Sweden)


- 2016/09/10 - Jan Lindgaard Rasmussen

Vänern Kinnekulle (Västergötland) (Sweden)


- 2016/08/18 - Jan Lindgaard Rasmussen

Kinnekulle overview Kinnekulle (Västergötland) (Sweden)

- 2016/08/14 - Jan Lindgaard Rasmussen

Djurö archipelago (solved riddle) Kinnekulle (Sweden)


- 2016/08/06 - Jan Lindgaard Rasmussen

Besides Leirvík Inna á Víkum (Faroe Islands)


- 2016/08/06 - Jan Lindgaard Rasmussen

Above Funningur Slope of Slættaratindur (Faroe Islands)


- 2016/07/30 - Jan Lindgaard Rasmussen

Dreigestirn on the Faroes Slope of Slættaratindur (Faroe Islands)


- 2016/07/27 - Jan Lindgaard Rasmussen

Above Eiðisvatn Eiðisskarð (Faroe Islands)

- 2016/07/16 - Jan Lindgaard Rasmussen

Night on Nólsoy Nólsoy (Faroe Islands)


- 2016/07/12 - Jan Lindgaard Rasmussen

Evening on Nólsoy Slope of Eggjarklettur (Faroe Islands)


- 2016/07/08 - Jan Lindgaard Rasmussen

Above Klaksv­ík II Slope of Klakkur (Faroe Islands)

- 2016/07/04 - Jan Lindgaard Rasmussen

Above Klaksv­ík I Slope of Hálgafelli (Faroe Islands)


- 2016/06/29 - Jan Lindgaard Rasmussen

Evening in Klaksv­ík Harbour The Harbour (Faroe Islands)


- 2016/06/27 - Jan Lindgaard Rasmussen

Sundini II Hvalastøðin (Faroe Islands)


- 2016/06/20 - Jan Lindgaard Rasmussen

Kollafjør­ður Kollafjørður (Faroe Islands)


- 2016/06/18 - Jan Lindgaard Rasmussen

Above Tórshavn Slope of Húsareyn (Faroe Islands)


- 2016/06/05 - Jan Lindgaard Rasmussen

Saksun Saksun (Faroe Islands)


- 2016/05/22 - Jan Lindgaard Rasmussen

Sundini I South of Ljósá (Faroe Islands)


- 2016/05/20 - Jan Lindgaard Rasmussen

Ei­ðiskollur Outside Eiði (Faroe Islands)

- 2016/05/14 - Jan Lindgaard Rasmussen

Gjógv Flesjarner (Faroe Islands)


- 2016/05/01 - Jan Lindgaard Rasmussen

Viðareiði Slope of Villingadalsfjall (Faroe Islands)


- 2016/04/24 - Jan Lindgaard Rasmussen

Møns Klint seaside overview. Baltic Sea (Denmark)


- 2016/04/17 - Jan Lindgaard Rasmussen

Approaching The Faroe Islands Off Torshavn (Faroe Islands)


- 2015/09/06 - Jan Lindgaard Rasmussen

Passing southern Norway Off Lindesnes (Norway)


- 2015/09/02 - Jan Lindgaard Rasmussen

Fair Isle (Shetland) Off Sumburgh Head (United Kingdom)


- 2015/08/22 - Jan Lindgaard Rasmussen

Foula (Shetland) Off Foula (United Kingdom)


- 2015/08/19 - Jan Lindgaard Rasmussen

Southern Mainland of Shetland (solved riddle) Off Sumburgh Head (United Kingdom)


- 2015/08/06 - Jan Lindgaard Rasmussen

Spring impression Sanddobberne (Denmark)


- 2015/07/08 - Jan Lindgaard Rasmussen

"Quiet flows the Storebælt..." Hashøj (Denmark)


- 2015/07/01 - Jan Lindgaard Rasmussen

Slagelse and beyond Galgebakke (Denmark)

- 2015/06/07 - Jan Lindgaard Rasmussen

Hashøj overview Hashøj (Denmark)


- 2015/05/29 - Jan Lindgaard Rasmussen

Teleview over Sejerø Bugt Kallerup Bakke (Denmark)


- 2014/09/07 - Jan Lindgaard Rasmussen

Sejerø Bugt overview Kallerup Bakke (Denmark)


- 2014/09/03 - Jan Lindgaard Rasmussen

A quiet summers evening on Ochsenkopf in Fichtelgebirge Ochsenkopf, Wahrzeichen (Germany)


- 2014/08/17 - Jan Lindgaard Rasmussen

Autumn impression In the fields (Denmark)


- 2013/11/10 - Jan Lindgaard Rasmussen

Autumn at Skarresø Skarresø (Denmark)


- 2013/11/09 - Jan Lindgaard Rasmussen

A central danish overview II Vågehøj (Denmark)

- 2013/11/02 - Jan Lindgaard Rasmussen

A view into north-western Skåne Hesbjerg (Denmark)


- 2013/10/23 - Jan Lindgaard Rasmussen

The lands of northern Øresund Hesbjerg (Denmark)

- 2013/10/18 - Jan Lindgaard Rasmussen

A defining view to the promised land... Gilbjerg Hoved (Denmark)

- 2013/10/14 - Jan Lindgaard Rasmussen

Unspectacular Harz impression Trudenstein, Harz (Germany)


- 2013/10/11 - Jan Lindgaard Rasmussen

Brocken Tiefblick RELOAD Brocken, Harz (Germany)

- 2013/10/01 - Jan Lindgaard Rasmussen

A summers day on Brocken Brocken, Harz (Germany)


- 2013/09/20 - Jan Lindgaard Rasmussen

Teleview to central Sjælland on a summers evening (300 mm) Esterhøj (Denmark)


- 2013/09/15 - Jan Lindgaard Rasmussen

Northwestern Sjælland in august Esterhøj (Denmark)


- 2013/09/03 - Jan Lindgaard Rasmussen

Sjællands Odde and beyond Path from Møllestrædet in Høve (Denmark)


- 2013/08/26 - Jan Lindgaard Rasmussen

View over Sjællands Odde Path from Møllestrædet in Høve (Denmark)

- 2013/08/22 - Jan Lindgaard Rasmussen

Kommentarpano an JE#12738 und HH#12696 Store Vrøj (Denmark)

- 2013/05/26 - Jan Lindgaard Rasmussen

Myretykkevej summer impression Myretykkevej (Denmark)


- 2013/05/17 - Jan Lindgaard Rasmussen

Myretykkevej winter impression Myretykkevej (Denmark)

- 2013/05/17 - Jan Lindgaard Rasmussen

****New World record: 91,9 km in Denmark!**** Vejrhøj (Denmark)

- 2013/04/26 - Jan Lindgaard Rasmussen

Across Sjælland II (420 mm) Vejrhøj (Denmark)


- 2013/04/17 - Jan Lindgaard Rasmussen

Landscapes across the water Vejrhøj (Denmark)


- 2013/04/14 - Jan Lindgaard Rasmussen

Røsnæs, Nekselø and Samsø (300 mm) Vejrhøj (Denmark)


- 2013/04/10 - Jan Lindgaard Rasmussen

Vejrhøj in winter - western overview Vejrhøj (Denmark)


- 2013/04/04 - Jan Lindgaard Rasmussen

Vejrhøj in winter - eastern overview Vejrhøj (Denmark)


- 2013/03/27 - Jan Lindgaard Rasmussen

Central Sjælland in winter (300 mm) Kløveshøj (Denmark)


- 2013/03/20 - Jan Lindgaard Rasmussen

Kløveshøj in winter Kløveshøj (Denmark)

- 2013/03/17 - Jan Lindgaard Rasmussen

Røsnæs from Asnæs Asnæs Forskov (Denmark)

- 2013/03/08 - Jan Lindgaard Rasmussen

An afternoon on Rakkerbanken Rakkerbanken (Denmark)


- 2013/02/18 - Jan Lindgaard Rasmussen

From Eskilsbjerg in winter Eskilsbjerg (Denmark)


- 2013/02/05 - Jan Lindgaard Rasmussen

Sejerø (300 mm) Eskilsbjerg (Denmark)


- 2013/01/23 - Jan Lindgaard Rasmussen

Northwestern Sjælland in snow Eskilsbjerg (Denmark)

- 2013/01/07 - Jan Lindgaard Rasmussen

From Musholm to Romsø. Reersø Westcliff (Denmark)


- 2012/12/07 - Jan Lindgaard Rasmussen

TEST Sjælland (Denmark)

- 2012/05/04 - Jan Lindgaard Rasmussen

Tissø from the west. Fugledegård. (Denmark)


- 2012/04/21 - Jan Lindgaard Rasmussen

Take a look, and give a comment... Vejrhøj. (Denmark)


- 2012/04/09 - Jan Lindgaard Rasmussen

The farthest view (so far): 83 km in Denmark. Vejrhøj. (Denmark)


- 2012/04/05 - Jan Lindgaard Rasmussen

Samsø and Djursland from Røsnæs (300 mm). Vågehøj, Røsnæs, Sjælland. (Denmark)


- 2012/03/24 - Jan Lindgaard Rasmussen

Northern Fyn from Røsnæs (300 mm). Vågehøj, Røsnæs, Sjælland. (Denmark)


- 2012/03/11 - Jan Lindgaard Rasmussen

A central danish overview. Vågehøj, Røsnæs, Sjælland. (Denmark)

- 2012/02/28 - Jan Lindgaard Rasmussen

Two glaciers were here. Harbour of Havnsø. (Denmark)


- 2012/02/11 - Jan Lindgaard Rasmussen

Tele view over Reersø, Jammerland & Tissø. Kløveshøj. (Denmark)


- 2012/01/24 - Jan Lindgaard Rasmussen

Western Sjælland in fading light (reload). Regnershøj. (Denmark)


- 2012/01/17 - Jan Lindgaard Rasmussen

A short days panorama. Regnershøj. (Denmark)


- 2011/12/30 - Jan Lindgaard Rasmussen

The bay of Sejerø. Højsted. (Denmark)


- 2011/12/02 - Jan Lindgaard Rasmussen

The Storebælt-bridges. Kløveshøj. (Denmark)


- 2011/10/18 - Jan Lindgaard Rasmussen

A good part of Western Sjælland. Kløveshøj. (Denmark)


- 2011/10/16 - Jan Lindgaard Rasmussen

View over Tissø. Buerup, Western Sjælland. (Denmark)


- 2011/09/25 - Jan Lindgaard Rasmussen

View over Røsnæs and Kattegat. Røsnæs peninsula. (Denmark)


- 2011/09/15 - Jan Lindgaard Rasmussen